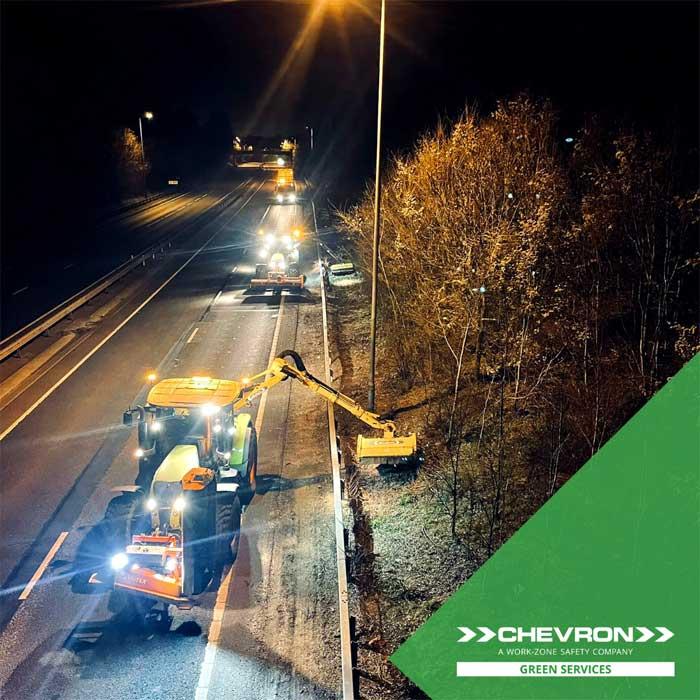 Two tractors speed up first and second grass cutting
It's grass cutting season across the country. Our crews across Essex, Norfolk, Suffolk, Cambridgeshire and Hertfordshire are in full flow, with six teams out this year, usually with up to five operatives per team.
Four of those teams have two tractors in them to help speed up the first and second cut. This allows for the addition of an interim cut to reduce growth on vegetation and improve visibility at junctions and to street signs. These additional interim cuts are usually requested on roads that have been highlighted as high risk for accidents and safety related issues, as well as speed restrictions.

As you'd imagine, grass cutting is machinery-heavy, with tractors, side, front and orbital flails, ride on mowers and the Unimog all being used, alongside strimmers and brushcutters for the more delicate work.

The grass cuts are predominantly on the roadside, including slip roads, roundabouts, approaches to junctions and crossovers. 75% of the work is taking place at night in a rolling enclosure, which keeps disruption to the travel public to a minimum.
Our grass-cutting services require traffic management support so we are delighted to have our sister company Chevron Traffic Management on hand to help us out when they can.
Find out more about our grass and vegetation cutting services