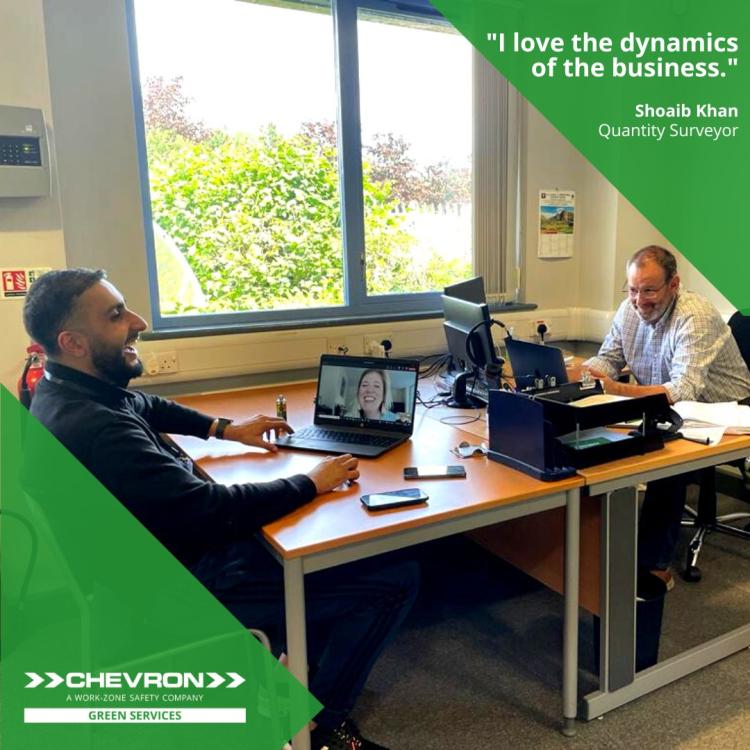 Meet Shoaib, our Senior Quantity Surveyor
One of our newest team members is Shoaib Khan who joined as a Senior Quantity Surveyor. He's been with us for eight weeks and it already feels like he's been with us for much longer.
Shoaib is tasked with commercial reporting for Chevron Green Services in each location across the country. He is also working to commercialise the business across the UK.
Shoaib started his career in his family's courier business. He soon found his love for numbers and efficiencies and went to Leeds Beckett University to study Quantity Surveying. He was picked for a placement year by Costain and joined A-one+ Integrated Highways Services in Area 12 on their joint venture with Colas and Jacobs.
After his successful placement he received a place on their graduate scheme where he stayed for four years gaining experience across multiple disciplines.
We asked Shoaib why he wanted to join Chevron Green Services? "It was a no brainer for me, I love everything about Chevron Green Services! I love the dynamics of the business and since joining, I feel as though I'm the perfect match to take Chevron Green Services above and beyond! Most importantly, I am very grateful to pursue my career in something I love; landscaping and travelling."
Shoaib says "No day is the same, every day is different. Some days I am pricing a major landscaping scheme, some days I am in meetings all day with the phone ringing non-stop! I expect it to get even busier in the coming weeks, as there's plenty on 😊"
Find out more about our Team