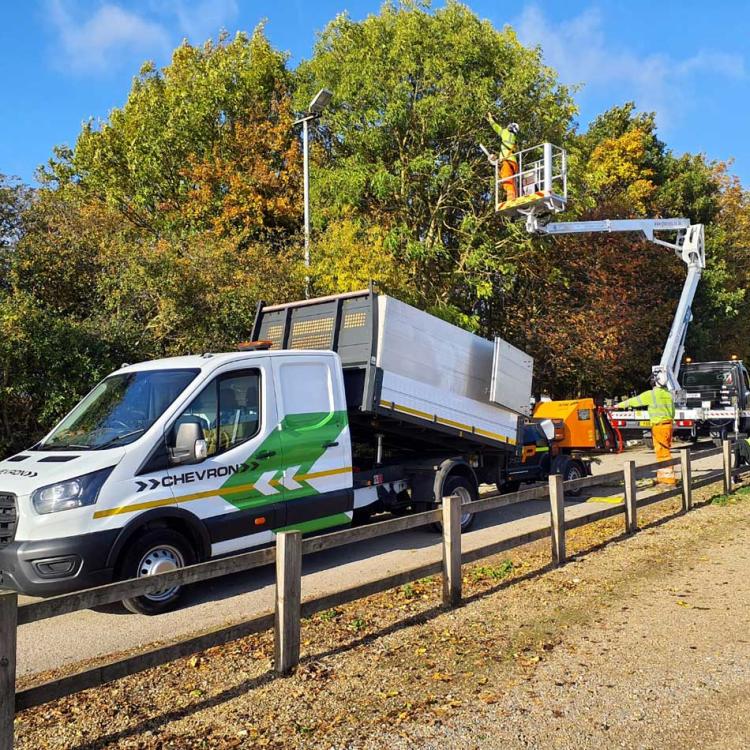 Chevron Green Services supports local pets charity with tree and hedge maintenance
Where possible, Chevron Green Services like to offer support to local charities and community projects.
Our team in the East of England is no exception. When we became aware that the Woodgreen Pets Charity in Cambridgeshire required some assistance maintaining their site, we were happy to help.
Over the course of a few days, we supported in three areas. The main access road to the car park has several mixed species of broadleaf trees that had grown so much they were blocking the light from the lamp columns, reducing the visibility of the road and parking area.
We trimmed these trees back to allow the light through, removed any deadwood within the trees, lifted the crowns of the trees away from the road, then pruned and shaped the trees. We were delighted to be supported by GTAccess Ltd, who provided a MEWP for this work, alongside three members of our team who used a variety of saws, a woodchipper and tipper truck.
Within the site, there is a planted hedgerow which the staff and volunteers had been maintaining by hand. It had gotten to a point where this was no longer feasible, so we used our tractor with side arm flail attachment to cut this hedgerow back to a manageable state.
We also worked on a secluded garden in the grounds with winding footpaths and benches making a lovely picnic area. The garden is protected from the wind by a perimeter of planted Leylandii trees. Our team trimmed back both sides of the trees and reduced the height to keep them in a maintainable condition. The team worked from the ground to trim the sides back. We then used climbers to reach the top and reduce the height.
All of the waste was chipped up and moved to a designated area on site to be reused by the staff for future projects such as footpaths or weed suppressants in planting areas.
The teams all did a great job and we're so proud to be able to support our local animal shelter in this way.
Stacey Hamilton, Woodgreen's Fundraising Manager, said: "We're so very grateful to Chevron Green Services; your kindness and generosity enables us to focus on caring for the pets in our centre."